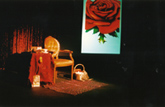 Created and Performed by
ELLA JOYCE
SYNOPSIS

explores the "famous incident", but is driven to do so through Rosa -- the real person. Not only a woman with a quiet dignity, but a woman with a quiet fire who is fully human with emotions. Strength. Weakness. Humor. Triumphs. A real human being, not just an iconic figure. This loving collection of historical information seeks to straighten out the occasional misinformation that sometimes surrounds her "famous incident". Growing up in Detroit, Ms. Joyce feels that she shares a type of "hometown kindred spirit" and a love for the community with Rosa Parks.

pays tribute to Mrs. Parks in hopes of not only keeping her story alive orally, and celebrating her exemplary character, but also seeks to infuse others (young and old), with her spirit to seek social change, and to choose involvement with political and civic issues concerning us today. Mrs. Parks tells her story simply as she speaks of things past, present, and eternal. Other key players out of this extraordinary period of American History are also memorialized, in this affectionate salute to such an incredible, yet seemingly simple, woman. "From the moment it was announced that Rosa Parks passed, I armed several TV sets with VHS tapes. I pushed the record button every time she was mentioned. I read something about her on the internet and world press every morning. I have collected hours and hours of live, precious information."
--Ella Joyce

was first presented as a public reading at the Richard Allen Center for Culture & Art (RACCA) in New York at The Shooting Star Theater (South Street Seaport) on Sunday, February 26, 2006. The first "preview" performance was presented at Lucy Florence Cultural Center (Solo Sundays) on Rosa Parks' birthday, Feb. 4. 2007 in Los Angeles, CA to a standing ovation.
"When a Colored Woman in America gets tired? ...Things change."

---Anonymous
MISSION STATEMENT - CELEBRATE & EDUCATE
To educate using the Arts.
To encourage Mrs. Parks' autobiography as required reading in all American schools regardless of school's racial population. (Before this play started, Rosa Park's autobiography "My Story" was out of print. It is now successfully in reprint.)
To deliver performances to underserved communities, the general public, small and large organizations, corporations, schools, and churches.