FEBRUARY 2019
is
HAPPY BLACK HISTORY MONTH
and
DATE MONTH
(Valentine's Day)
Bring a Date to class!
FUNKACIZETM
in NORTH HOLLYWOOD
FUNKACIZE FRIDAYS !
**a one-hour dance work-out**
Taught by ELLA JOYCE
at EVOLUTION DANCE STUDIOS
at 8:00PM sharp
at
EVOLUTION STUDIOS
10816 Burbank Blvd.,
North Hollywood, CA 91601
Only $10 per class (1-Hour)
SockHOP STYLE CLASS (Must sign Waiver. Must dance in socks.)
BEST HOUR IN TOWN
FUNKACIZE FRIDAYS
The FUNKACIZE NEWSLETTER & this Website keeps you informed.
FUNKACIZETM is ALWAYS A
"SOCK-HOP Style" Dance class
(Must dance in thick, cozy, sweat socks.)
Prepare to sweat!
Dancing & Bopping to SOUL MUSIC
*******************
*****
FUNKACIZE
MEMBERS - Read your Funkacize Newsletter for details.
DATE MONTH discount for Members only.
How do you become a Member?
Just attend one Friday nite class -AND- register a deliverable email address
for the FUNKACIZE NEWSLETTER/Ella Joyce FAN CLUB.
That's it!
fun Exercise with Ella Joyce
visit PHOTO Gallery- http://www.msthingproductions.com/funkacize-gallery.php?
Photos at MeetUp: https://www.meetup.com/Funkacize-Soul-Dancing/photos/
In North Hollywood, CA, on Fridays 8PM at EVOLUTION DANCE STUDIO
see more photos: https://www.meetup.com/North-Hollywood-FUNKACIZE/photos/
Fun+ExerCise2funkySOUL music=FUNkaCIZE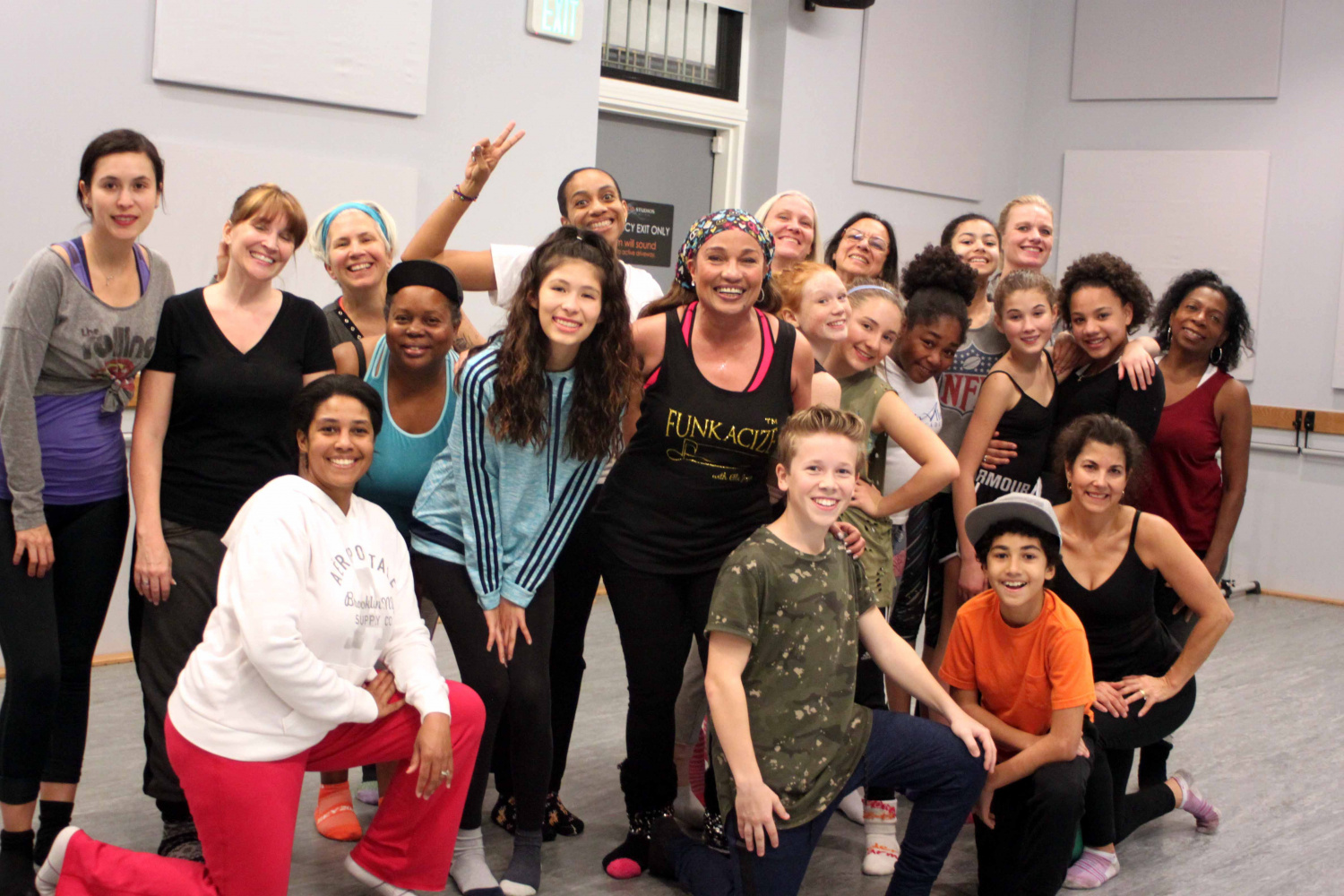 Funkacize is for Everyone! #FunkacizeFriday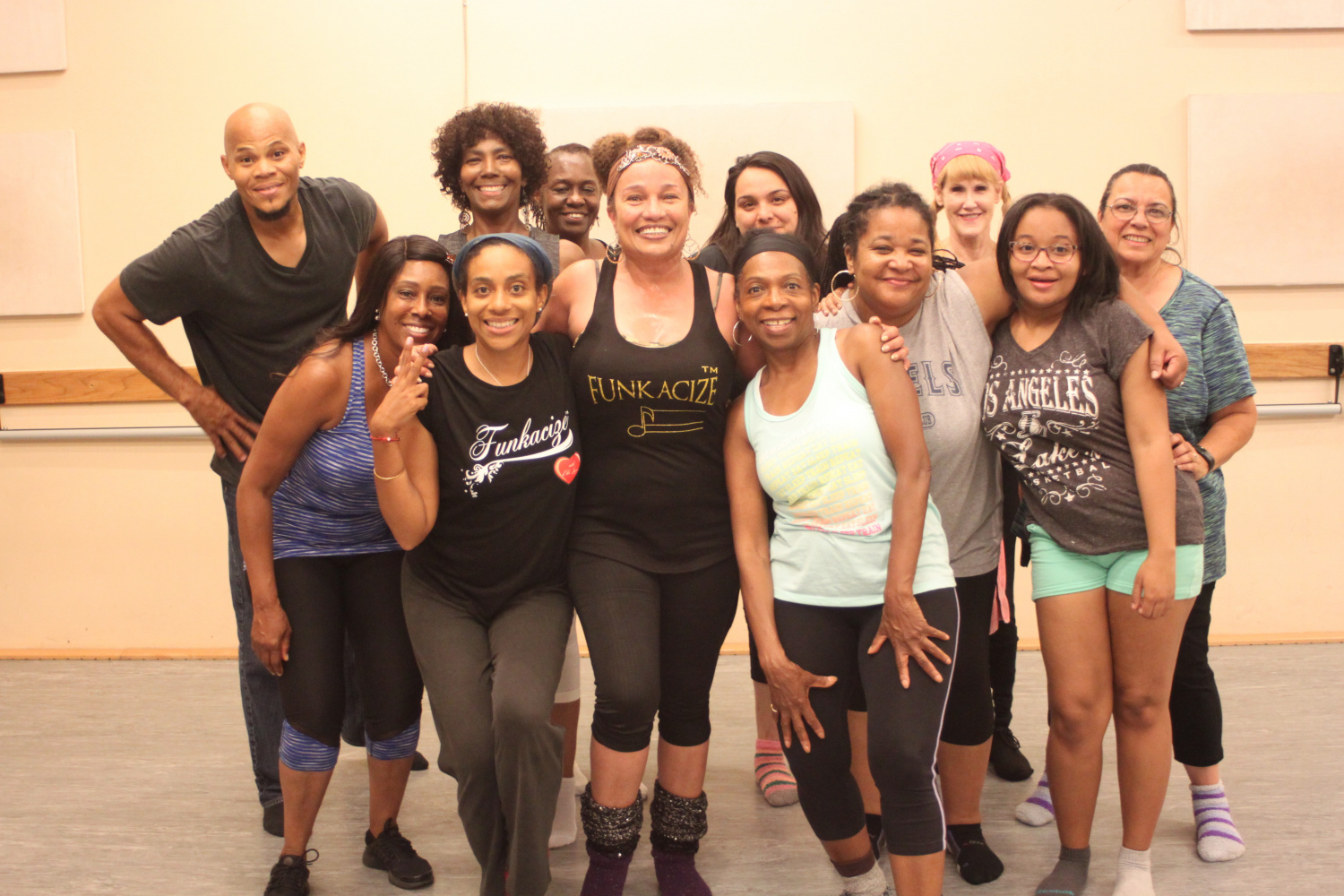 #danceWithEllaJoyce
FUNKACIZETM
with Actress Ella Joyce
*********
ELLA JOYCE
Please VISIT Actress' MOVIE DATA BASE:
http://www.msthingproductions.com/
http://www.msthingproductions.com/gallery.php
http://www.msthingproductions.com/videos.html
video: https://youtu.be/WuumFSo9OeA?t=36
http://www.imdb.com/name/nm0431520/
(check this site again for updates)
Ella Joyce receives Ovation Award, for the role of Ruby in August Wilson's "King Hedley II", directed by Michele Shay, produced by Sophina Brown, at The Matrix Theater.
************************
FUNKACIZETM
Dance-Class PARTIES
are AVAILABLE TO BOOK.
**Throw a FUNKACIZETM PARTY**
FUNKACIZETM is designed to be held at Dance Studios with mirrors, hard floors, & high performance sound system..
******
FUNKACIZETM
CELEBRATES 5-YEAR ANNIVERSARY in Oct 2019.
Originally launched in October 2014.
Hosted by Ella Joyce & Dan Martin.
*****
Keep checking this page for updates.
**If Class is cancelled, or the schedule changes, it will be posted here.**
***********************************
#FunkacizeFriday
FUN+ExerCISE 2FunkySoul Music=FUNKaCIZE
is it Friday yet?!
******************************************************************
FUNKACIZETM IS OFFICIALLY TRADEMARKED.